An Army brother of mine shared a picture that not only brought tears to my eyes but got me thinking about how much the majority of this country takes for granted.  The picture was of a little boy spending time with his father.  The reason this picture just broke my heart was because the boy was behind a chair sitting next to a picture of his father.  See his father died in fighting Afghanistan.  The picture was quoted,"His Mom Caught Him Spending Time With His Dad Who Died Fighting In Afghanistan."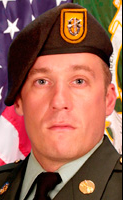 His father is SFC Benjamin Wise who died assigned to the 3rd Battalion, 1st Special Forces Group at Join Base Lewis-McChord in Washington.   He died at the Landstuhl Regional Medical Center in Germany from injuries is sustained on January 9, 2012, when enemy forces attacked his unit with small-arms fire.
SFC Wise entered the military in 2000 and gave 12 years of his life serving this country.  SFC Wise was on his 4th deployment overseas.
This hero, SFC Benjamin Wise is survived by his wife, two sons and daughter.
Freedom and Safety
My military brothers and sisters who have served or who are serving, sacrifice more than you could ever imagine.  We volunteer for a job that doesn't pay very well.  We have to move to different locations and up root our families.  Fathers and mothers get deployed for 6 months to a year and can miss years from their children's lives due to deployments overseas.
Why do they do this?  Well it's their job and they do it for you.  The fight abroad so the fight never has to come here; the United States.  Once they are enlisted, they go where they are needed and miss out on their families, parenting experiences and being a support to their spouse.
Let's not forget the spouses that have to hold down the fort and run the family alone while their loved one is away.  I would argue that military spouses and families deserve just as much credit for their sacrifices.
Many pay the ultimate price for your freedom and lose their lives while protecting our lives and our freedoms.
My Perspective
I know what many of these families go through because I served in the Army from 1998 to 2002.  Many of the men and woman I served with continue to serve.  Those that got out after their enlistment continued serving their state and cities by become police officers.
A friend of mine Calhoun just returned from his 4th deployment. I know how great of a father, husband and man he is.  I saw how hard it was for him to be away from his family for even the short periods of time during field exercises.  He has lost a significant amount of time from his family by serving our country and I am happy he his home safe with his family again.
4 Things I Want you to get From This
You better say thank you
Say thank you to all the  men and women serving.  Go to them and shake their hand.  Buy their coffee, their lunch or a beer at the bar.  Show them gratitude for what they do and what they represent.  A soldier deserves much more then they get.
Be Grateful
Be grateful and thankful for life you live.  Whether you are married, single or a parent, be grateful.  Stop walking around crying and whining about what you don't have.   Start being thankful for what you do have.
Hire a Veteran
Hire a veteran.  My experience with veterans is that they will come to work on time and work hard.  They think outside of the box and solve problems because that is what they are trained to do.  And quite frankly we owe it to our veterans to get them in a job after they have done so much for us.
Don't Waste Time
Moms and Dads, time is fleeting.  The longer you are a parent the more you realize that this life we live goes in snap. Don't put off the things you want to teach your children. Don't put off the experiences you want to share with your son or daughter.  Don't wait because you don't know when I can be taken from you.   Stop talking about it what you want to do and take action.
The child in the picture lost all the experience he was going to have with his father in the future. He will never get to be held in his father's arms again, or get a kiss goodnight from his father, or be able to pray at night with his father.   His father won't be able to teach him how to shave or how to drive a car. His dad can't tell his son it is all going to be ok.  SFC Wise can't tell his sons or daughter that he loves them.
Moms and Dads you can.  Put your iPhone down and be that parent that your kids need.  Give them hugs and kisses.  Tell them you love them 10 times a day.  Hold them close as long as you can.  Be grateful for every second you have with your spouse and kids.
The picture of this boy sitting next to his father's picture will forever be burnt in my brain.  If this picture hasn't had any effect on you then you need to check your pulse.  This picture saddens me to no end.
After I finish this article I am going to pray for the family of SFC Wise that they find peace and comfort.  I would ask that you do what your heart tells you to do.